Adding Storage to Your Tucson Kitchen – Pt. 2
Posted on December 12, 2012
by canyoncabinetry
In our most recent blog post, we discussed how to cut back clutter in your kitchen space by tweaking your kitchen design.
As promised we have a few more ideas for you to do just that! So let's dive right in!
5 More Ways to Reduce Kitchen Clutter
Lazy Susans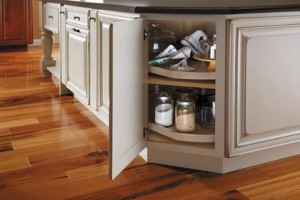 You probably were wondering where this was if you read part one. Lazy Susan's are definitely one of the best ways to save space in your kitchen.
If you're doing a home remodel, or just reworking your kitchen space be sure to consider one of these rotating life-savers.
Lazy Susan cabinets are the best choice for a corner cabinet because typically you'll have a lot of room there, but who wants to go digging for certain pots or pans amongst a bunch of other kitchenware?
Nobody! The best part about Lazy Susan cabinets is not only do they help you organize what would otherwise be a large cabinet full of clutter, but they also make it easy to access whatever you choose to throw in there.
That way, you can make that cabinet space into one where you store your go-to kitchen stuff instead of one where you toss all the things you rarely use and hope you never have to dig them up.
Pot Racks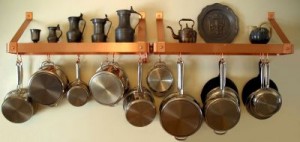 Pots and pans can be the biggest space hog of all, so if you're overstocked on them, then a pot rack of some sort is the best way to organize and de-clutter.
You may have seen a friend or family member's kitchen with an overhead rack installed over their island, which is a common spot for a pot rack, but they can also be put along any open wall space in the kitchen as well.
Behind your stove range is always a good place, but we suggest adding your pot rack wherever it functions well yet still isn't a distraction. If it makes the kitchen space feel smaller then try a more removed location!
Tension Rods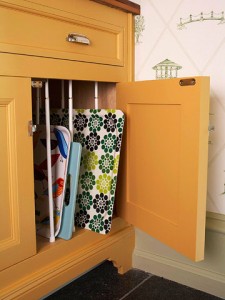 If you have cabinets without shelving and they have a decent amount of space inside you'll love this idea.
Cabinets without shelves can end up being spaces where you just stack junk, but they don't have to be!
Try putting in some tension rods to break up the space and allow for better organization. These are especially useful for cabinets where you store your cutting boards or baking sheets.
Instead of stacking them you can just slide them in and out without hassle and you don't have to go digging and clanking around for that specific piece you want to use.
Drawer Dividers
If you've overlooked drawer dividers for your cabinet drawers, then you've made a major mistake. Dividers like those pictured are key to keeping a chaotic kitchen in tact.
Not only do they make your inner cabinet space look less cluttered, but they also help greatly with organizing and avoiding rummaging around for that whisk or spatula you always seem to misplace.
Larger drawers can also have dividers installed so as to avoid having any one piece of kitchenware get lost at the bottom of the pile. That way you can keep all your ducks in a row, so to speak.
Baskets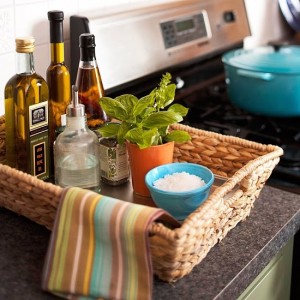 The last tip we have for you in adding baskets to your countertops and kitchen island.
Too many is no good, but having 3-4 baskets spread throughout the kitchen is one of the easiest ways to cut down on countertop clutter.
All those little things you need out all the time don't have to just be pressed up against the backsplash or the kitchen wall.
Those things can be neatly organized into tidy baskets for easy access as well as storage for when you're finished using them! Plus the right basket style can really bring out your kitchen theme!
Of course there are plenty of other ways to reduce clutter, but we hope these extra kitchen storage ideas help you to open up your space so it's got that clean and new feeling at all times!
Posted in: Kitchen Remodeling Tucson Arizona
Tags: cabinet ideas, cabinet remodeling Tucson AZ, cabinets Tucson AZ, home remodel Tucson AZ, kitchen cabinet storage, kitchen cabinets Tucson AZ, Kitchen Design Ideas, kitchen design Tucson AZ, kitchen remodel Tucson AZ, kitchen remodeling ideas, kitchen remodeling Tucson AZ, Kitchen Storage Ideas, Tucson cabinets