Bathroom Storage and Organization Ideas
Posted on January 16, 2014
by canyoncabinetry
With so many different items that need to be stored in bathrooms, even large bathrooms can have storage problems. It's no surprise that it's very difficult to store everything that a bathroom typically needs in a small bathroom. Storing these items in an organized manner may even seem impossible. However, with some creativity and planning you can have a clean and organized bathroom no matter the size.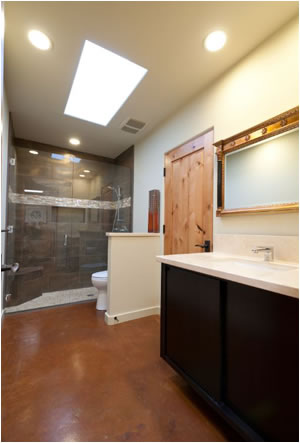 Decorative Glass Containers
Sometimes, it's not the big items that cause clutter. The smaller items can also easily take over a counter or cabinet. Decorative clear glass containers not only give you a better place to store miscellaneous items such as soaps, bath beads and more, but they also add a nice decorative touch to the room.
Tiered Trays
Another decorative option is tiered trays. You can store small items on a decorative tiered tray such as jewelry, makeup, small soaps and more. The tiered design is not just beneficial as a decoration, but it also provides you with more storage space.
Making the Best of Your Existing Storage Options
Even small bathrooms typically have a few storage areas such as a cabinet, some shelves and maybe a few drawers. Instead of stuffing everything into these few storage areas with no direction, try to separate and organize these storage areas with items like small wicker baskets, dividers for the drawers, labeled trays for the shelves or boxes in the cabinet. You can also attach small baskets and racks to the doors of your cabinet for even more storage space.
Store Towels Elsewhere
Towels tend to take up a lot of space in bathrooms, especially when several people live in the same house. Only one or two towels can be placed on a rack if you have one, and the other towels need to be stored in the cabinet or shelves. Keep one or two towels in the bathroom for immediate use and store the extra towels in a separate closet or storage area to free up some room in the bathroom.
Detachable Hooks
You can buy detachable hooks for your walls for a few dollars. They are easily installed, and they can be removed easily with no residue or damage to the wall. These hooks can be used to store items such as curling irons, air dryers, hand towels and more while taking up nothing but a little wall space.
Organizing the Bath Tub or Shower
The bath tub or shower is usually a mess filled with various hair care products, soaps, brushes, sponges and more. It's incredibly difficult to find a bath tub or shower designed for much in terms of storage. That is why it is beneficial to use shower baskets and racks to hold all of the various items in the tub or shower. Using these baskets and racks also makes your shower or tub safer in addition to more organized.
Check out our gallery for ideas on your bathroom or come and visit our showroom.
Posted in: Bath Remodeling Tucson Arizona
Tags: bathroom remodelling, new bathroom, remodel bathroom, tucson bathroom