Bathroom Storage and Organization Ideas
Posted on January 16, 2014
by canyoncabinetry
With so many different items that need to be stored in bathrooms, even large bathrooms can have storage problems. It's no surprise that it's very difficult to store everything that a bathroom typically needs in a small bathroom. Storing these items in an organized manner may even seem impossible. However, with some creativity and planning you can have a clean and organized bathroom no matter the size.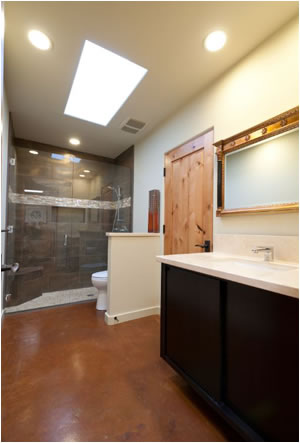 Decorative Glass Containers
Sometimes, it's not the big items that cause clutter. The smaller items can also easily take over a counter or cabinet. Decorative clear glass containers not only give you a better place to store miscellaneous items such as soaps, bath beads and more, but they also add a nice decorative touch to the room.
Tiered Trays
Another decorative option is tiered trays. You can store small items on a decorative tiered tray such as jewelry, makeup, small soaps and more. The tiered design is not just beneficial as a decoration, but it also provides you with more storage space.
Making the Best of Your Existing Storage Options
Even small bathrooms typically have a few storage areas such as a cabinet, some shelves and maybe a few drawers. Instead of stuffing everything into these few storage areas with no direction, try to separate and organize these storage areas with items like small wicker baskets, dividers for the drawers, labeled trays for the shelves or boxes in the cabinet. You can also attach small baskets and racks to the doors of your cabinet for even more storage space.
Store Towels Elsewhere
Towels tend to take up a lot of space in bathrooms, especially when several people live in the same house. Only one or two towels can be placed on a rack if you have one, and the other towels need to be stored in the cabinet or shelves. Keep one or two towels in the bathroom for immediate use and store the extra towels in a separate closet or storage area to free up some room in the bathroom.
Detachable Hooks
You can buy detachable hooks for your walls for a few dollars. They are easily installed, and they can be removed easily with no residue or damage to the wall. These hooks can be used to store items such as curling irons, air dryers, hand towels and more while taking up nothing but a little wall space.
Organizing the Bath Tub or Shower
The bath tub or shower is usually a mess filled with various hair care products, soaps, brushes, sponges and more. It's incredibly difficult to find a bath tub or shower designed for much in terms of storage. That is why it is beneficial to use shower baskets and racks to hold all of the various items in the tub or shower. Using these baskets and racks also makes your shower or tub safer in addition to more organized.
Check out our gallery for ideas on your bathroom or come and visit our showroom.
Posted in: Bath Remodeling Tucson Arizona
Tags: bathroom remodelling, new bathroom, remodel bathroom, tucson bathroom
Choosing the Right Kitchen Countertops
Posted on December 27, 2013
by canyoncabinetry
One of the best aspects of renovating a kitchen is the opportunity to choose new countertops. The right kitchen countertops can take a kitchen from dull and utilitarian to fresh and exciting. The following are some countertop choices to consider if you are thinking of remodeling your kitchen and replacing your current countertops.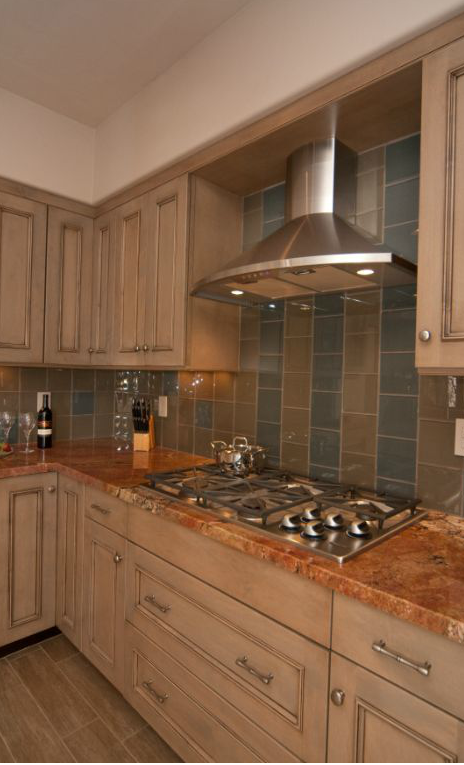 Plastic laminate countertops also known by the trade name Formica, are still popular in many kitchens. Laminate countertops tend to be inexpensive and long wearing. Today's laminate countertops come in patterns that mimic the look of granite, so they are obvious choices for moderate to lower priced homes where builders or buyers are concerned with saving money. However, they are also a good choice when remodeling since the edges can be designed to look like higher-end counter tops at first glance.
Granite is a natural stone that is popular in upscale homes. Granite comes in many interesting naturally interesting color variations. Granite countertops match well with any kitchen color and look good with various appliances, including stainless steel. Granite was once the staple in higher-end homes but in recent years, the stone has become more affordable and is often in moderately priced homes.
Ceramic tile is another counter-top option. Ceramic tile countertops can be installed using tiles that create interesting patterns; however, some homeowners prefer countertop surfaces that are easier to maintain.
Hard wood countertops are not as popular now as they were in the past, and this may be due to the perception that it is difficult to maintain. Wood countertops do require maintenance to keep them looking nice and performing well. Polyurethane can keep the countertops looking good for several years; however, tor those who prefer the natural look of the wood; oil type finishes are used. These must be reapplied every few weeks to maintain the finish.
Precast concrete countertops are growing in popularity. These stone slab countertops fare better than those that were applied in years past by pouring. Because they come ready to install, they have been cured and designed to resist stains and cracks.
Solid surface counter tops are fabricated from acrylic, polyester or a combination of both materials. They have been around for close to four decades. Solid surface counter tops are durable and easy to repair. Damage such as burns and gouges can be sanded out or filled and sanded. The colors and characteristics of these counter tops can also be designed to the customer's preference.
For a more comprehensive information on style and other kitchen remodeling ideas, please visit Canyon Cabinetry's showroom. One of our knowledgable and professional designers will be happy to assist you.
Posted in: Home Remodeling Tucson Arizona, Kitchen Remodeling Tucson Arizona
Tags: cabinet design Tucson AZ, countertops Tucson AZ, kitchen cabinets Tucson AZ, kitchen design Tucson
Kitchen Redesign
Posted on November 22, 2013
by canyoncabinetry
The first thing you should consider for a kitchen redesign is how you use the space now and how you will want to use the new space you create. Space is one thing that must be decided upon from the very beginning. You should have plenty of room for the size of the kitchen you would like to have. Consider how much counter space you will need to cook your favorite dishes. How many people will you be cooking for and entertaining in your new kitchen? Answering these questions right away will help lay the foundation for the actual redesign of your kitchen.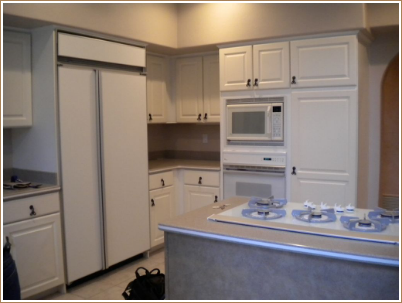 After you know how much space you will need, it's time to calculate your budget. You can use a range to determine a budget, and then you will need to stick to it. Use a lower range for what you would like to spend and then use an upper range to denote the maximum amount you can afford to spend on the redesign process. Your budget will help you determine which materials you can buy and which ones you will need to avoid. The materials you can afford will determine the type of kitchen you will most likely be able to have.
 The next thing you will need to do is hire the proper personnel to help you build the new kitchen. You may need a lot of professional help or only just a little bit. There are a lot of ways that different professionals can lend a hand. You might only need some help selecting the materials for your space. You might also require help managing the entire project. Whatever your situation requires should be planned thoroughly before anything is started on the remodeling project. The proper guidance will make a big difference in the success of the project.
Finally, you will want to make a design for the project. The spacing requirements should come before the design so that it's created within the specifications of the allotted space. Once you have the materials, you get to create the new space based on what you were able to purchase. You should have plenty of room for a table and seating so that friends and relatives can enjoy the new kitchen with you. A new kitchen will make any home look better, and it will also increase the resale value of the home if you ever decide to move to a new home. Call or come visit Canyon Cabinetry & Design showroom now for more information.
Posted in: Home Remodeling Tucson Arizona, Kitchen Remodeling Tucson Arizona
Tags: Kitchen Redesign, Redesign Kitchen, Redesign kitchen Tucson
Organizing Ideas For Your Kitchen
Posted on October 31, 2013
by canyoncabinetry
Keeping your kitchen organized is a vital part to any home. The kitchen is not only a place to eat your meals, but it's also a meeting place for families to come together and talk about their days. No one wants to do this in a place that is cluttered and disorganized, so it's important to assure your kitchen is clean. Here are some smart organizing tips for your kitchen to utilize your space better and keep everything more clean.


Having Tupperware lying around is always great for when you want to store meals as leftovers to have the following day. The problem is that all of those pieces usually get lost and you typically have more containers than lids. One size fits all containers are a perfect way to organize your kitchen and your food. These containers stack on top of one another, which means you can easily organize your cabinet. And because all of the pieces fit together, you no longer have to worry about one or two missing tops.
Stacking things on top of each other is sometimes a good idea. However, it can get messy when you need something from the bottom or want to reach around and grab something from behind. Using turn tables throughout your kitchen will save you a ton of room. You can put turn tables in your cabinets to organize food or containers, but you can also put them in the fridge to better organize what you have in there as well. Turn tables help you reach things that are hard to get, as well as limit you from stacking things on top of one another so that you see them.
If you are looking for a great DIY project that will also help you organize your kitchen, considering making a measuring conversion chart. This type of chart will give you somewhere to put all of your measuring cups, and it'll also help you remember how liquid measurements convert to one another. Not only will this look great and save you space in your kitchen, but you can also tell people that you made it.
If you feel like you simply don't have enough space in your cabinets, consider 
adding hooks and storage
 to the inside of the cabinet doors. This works especially well with cleaning supplies, but you can also put things like plastic utensils or other obscure items that you want to keep but hate taking up space when doing so.
You can maintain a beautiful kitchen
 without having to completely change everything in it. Instead, consider the organization tips here to make more of your kitchen and
keep it looking great
.
For more information, click here
.
Posted in: Custom Cabinets Tucson Arizona, Home Remodeling Tucson Arizona, Kitchen Remodeling Tucson Arizona
Tags: clean kitchen, Kitchen, kitchen design Tucson, kitchen organization, kitchen remodel Tucson AZ, kitchen Tucson AZ
Custom Kitchen Cabinet Essentials
Posted on September 30, 2013
by canyoncabinetry
Over the years, you dreamed of redoing your kitchen and imagined yourself working in an efficient, pleasant room of your own design. When the time comes to actually plan your new kitchen, though, you may find yourself overwhelmed by the choices that are available.
The solution is a kitchen plan. With a little time and effort, you can create your own plan. Here are some ideas to help you get started.
Assess Your Wants and Needs
Take some time to think about what you want in a kitchen. Make a sketch, jot some notes or clip some photos from magazines. Label these wants. Now think about what you need in a kitchen. Try to remember any features you particularly liked about kitchens you have worked in, and think about features you needed but didn't have. Make notes or sketches and label them needs. Your goal is to fit most of your needs into your kitchen design and to fit as many of your wants as your budget will allow.
Work Out Your Budget
Determine how much money you will have for the project. Plan to create a tight spending plan for 8
0 percent of your total budget. Leave the remaining 20 percent undesignated. You will use this money to cover oversights and unexpected expenses. If you have money left over when the project nears completion, you can use it to splurge a little.
Remember the Triangle
Although some kitchen designers think it is outdated, the triangle is still the gold standard for kitchen design. The idea is that most of your steps in the kitchen follow a natural triangle between the refrigerator, the sink and dishwasher area and the stove and microwave area. The triangle doesn't have to form a perfect yield sign, but the closer you can get it to that shape, the more efficient your kitchen will be. However, any triangle is better than no triangle if you have an oddly shaped room.
Cabinets Make the Kitchen
Aside from the triangle, the most important factor in an attractive, easy to use kitchen is the cabinets. They are also often the most expensive item in your kitchen. Try to get the best cabinets your budget can afford, and don't forget the features, such as recycling bins or pull-out shelves, that can make the most of your kitchen's square footage. You may come to wish you had never purchased those trendy light fixtures, but you will never regret the money you spend on custom cabinet design.
Posted in: Custom Cabinets Tucson Arizona, Kitchen Remodeling Tucson Arizona
Tags: custom kitchen, kitchen design Tucson, kitchen remodel Tucson AZ, Tucson custom cabinets
Kitchen Cabinet Designs and Trends
Posted on August 28, 2013
by canyoncabinetry

When you think of built-in cabinets that hold everything you need in the kitchen, many decorating styles come to mind. Whether you like a Moroccan/Italian kitchen, a modern and bold kitchen or a traditional, warm kitchen, keep in mind that exciting new appliances like refrigerators, stoves and dishwashers can be integrated into the style. The appliances are an essential element in many new kitchens. 
The many cultures in Morocco influenced the kitchen cabinets we see in the latest wave of Moroccan/Italian kitchens. Moroccan style embraces rich colors, geometric designs, fascinating textures and exquisite details. If you are looking for a comfortable and exotic style of kitchen cabinets to become part of a traditional or modern kitchen, look to Italian/Morocco design.
Like the old ruins in Rome, the Italian elements in the style offer an eternal look. Modern Italian rooms have an air of timeless luxury. By combining natural materials with earthy colors, designers create magnificent kitchen cabinetry. Combined with the Moroccan design, the colors of the Italian/Morocco design tend toward sandy whites, sea blues and understated golds. The design also calls for dark wood finishes.
The welcoming, casual look of warm kitchen cabinetry with natural styling and down-to-earth colors makes the warm kitchen the beating heart of any home. Today's warm kitchen cabinetry not only stores kitchen items, it offers display areas for knick-knacks and keepsakes. The warm style is perfect for any layout, whether an open air design or an enclosed space. 
You do not have to be an urban loft dweller to enjoy the look of modern and bold kitchen design. The neutral color hues and clean unobtrusive furnishings that define the modern and bold kitchen design work anywhere. The appliances often come in stainless steel with popular accents. The new fixtures that people expect in a modern kitchen only enhance the value. Warm wood elements can be added to give it an inviting feel.
Easily recognized elements like curved cabinet faces and arched cabinet top pieces echo existing architectural elements with tremendous effect in any kitchen design. After your kitchen is complete, accents and lights can be added to enhance the feel. Regardless of the style, new kitchen cabinets makes your kitchen a thrilling new room.
If you are just starting out, fill out our easy form and we will help you find the best cabinet solution to fit your specific needs.
Posted in: Bath Remodeling Tucson Arizona, Kitchen Remodeling Tucson Arizona
Tags: Custom Cabinet Design, custom cabinets Tucson AZ, Tucson cabinetry
Customize Your Cabinets, Simply!
Posted on July 15, 2013
by canyoncabinetry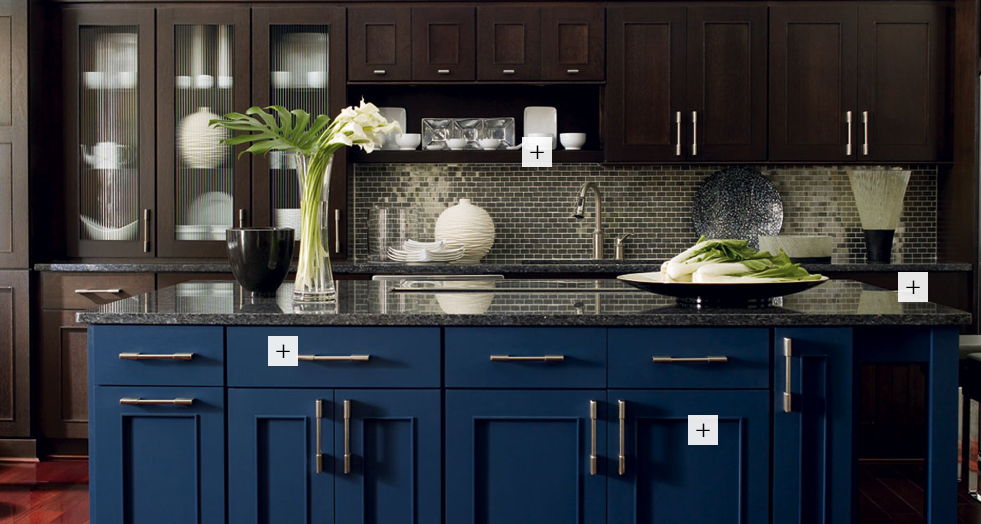 Above is an interesting piece by our supplier Omega Cabinetry, and we take great pride in partnering with such a superb cabinet designer! First off, the cold colors and granite counter top really bring out the modern kitchen look. You can keep your fine China in various areas and never run out of places to put it. White is a perfect compliment in this case, and without the China displayed the set would look more empty. Below is a continuation of what the "+" means above, and the link further understanding this piece is at http://www.omegacabinetry.com/inspiration-gallery

Thanks for reading, and we hope you tune in next week for more style ideas!
Posted in: Uncategorized
Tags:
We Have Hand-Made Quality Cabinets, Which Last Much Longer Than Our Competitors!
Posted on July 8, 2013
by canyoncabinetry
Most people don't what a quality kitchen cabinet set is, nor does most of our competition. It's easy to market a nice looking cabinet set, but to back it up with quality hand-made design process' is harder to do. You won't find Canyon Cabinetry advertising some cabinets made from outside the US or in some dark corner of our country. No no, we ensure the highest quality of material and local hand-crafting of the highest degree, and since 1942, Wood-Mode has served us very well in both regards.
This quote gives us and you the reality that Wood-Mode will do everything possible, and impossible, to deliver high quality goods: "We protect the quality of our cabinetry and our reputation by treating every cabinet we create like a piece of fine furniture. The result is quality custom cabinetry built with care and precision for a lifetime of use."
The key to Wood-Mode's quality is being in control of every step, from the picking of high end furniture lumber, seasoning, and finally to kiln-drying in their Pennsylvania warehouse. Each step is hand-crafted and perfection is meet each time, even if it takes longer to achieve the ideal look and feel of the furniture.
Also, remember that each and every piece of our furniture artwork is finished, hand assembled, and then individually inspected by a team of fine furniture professionals for top quality. During shipping, the next set of professionals hand wrap every piece and then send them to various warehouses and homes, but only professional or their own carriers during this shipping process.
They also maintain the responsibility to give the best quality cabinetry possible through their inclusion of intricate detail on the hand-carved accents and decorative moldings. In the end you will see a Wood-Mode cabinet set that will take your visual and quality breath away. When you deal with Canyon Cabinetry, you will definitely understand why a majority of homeowners and kitchen designers give Wood-Mode an A+ Rating for their product!
Posted in: Custom Cabinets Tucson Arizona, Home Remodeling Tucson Arizona, Kitchen Remodeling Tucson Arizona
Tags:
Adding a Second Kitchen Sink
Posted on June 11, 2013
by canyoncabinetry
If you are working on a kitchen remodel or designing a kitchen for a newly built home, you may have thought about the possible benefits of including a second kitchen sink in your new design. Having a second sink in the kitchen can help facilitate multiple people prepping and cooking in the kitchen or can designate a bar area if a full wet bar isn't in the plans. We are sure many of you have found yourself in the in the kitchen after a dinner party or a large family gathering, trying to get to the sink through all the dirty dishes to start up the dessert and coffee or tea. A second sink placed near the dishwasher can easily be used as the dirty station, giving you open use of the main sink.
So now that we have you thoroughly convinced that a second kitchen sink is in your best interest, lets break down a few different options you have for locations, and how each one can help maximize its usefulness.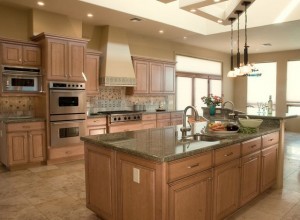 Island
A small second sink on the kitchen island give you a great area to help out with cooking and prep, while still staying out of the way of the main prep areas. If your primary sink leaves you with your back to the room, either by facing a wall or overlooking a window, an island sink gives you the options to clean up while still facing into the kitchen. You can maintain conversations with your guests or watch over your kids if there is an adjacent family room.
Peninsula
If your kitchen island is on a smaller scale but you also have a peninsula, or if your new kitchen layout has a peninsula worked into the design instead of an island, this would be a great place for a second sink. Similar the island, it can designate a second area for prepping but it can also work well as an entertaining space. Beverages can easily be prepared for guests while keeping out of the way of the prepping and cooking in the main area.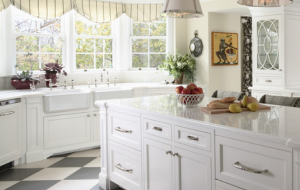 Next to the main sink
Just like a kitchen with two dishwashers, double sinks can mean a much quicker cleanup! For the kitchen enthusiast that is look for the versatility of a double basin and the useful size of a single basin, the answer may simple be to have one of both! Large pots and pans can easily be washed in one while the other can be used for rinsing vegetables.
As always, the decisions you make in layout for your new kitchen should be based on the needs you have for making your time cooking and cleaning up as efficient as possible! At Canyon Cabinetry and Design, we can help guide you through each step of your decisions to make sure you don't end up with sinks that are too close together or are too small for practical use. We know that well placed sinks can style and function to the heart of your home!
Posted in: Home Remodeling Tucson Arizona, Kitchen Remodeling Tucson Arizona
Tags: kitchen design Tucson, Kitchen Remodel Tucson, kitchen remodel Tucson AZ, kitchen Tucson AZ, remodel Tucson AZ, Tucson kitchen design
Importance of Appliances in a Kitchen Remodel
Posted on May 31, 2013
by canyoncabinetry
One of the most important and overlooked aspects of remodeling the kitchen in your home is choosing the right appliances. While appliances may only account for about 10% of your overall remodeling budget, choosing the right appliances can dramatically increase the functionality and efficiency of your kitchen.

We all know that intelligently designed space is important to kitchen workflow, and upgrades like marble countertops and cherry cabinets are as beautiful as they are useful…but what about appliances? How can we find that sweet spot between beauty and utility, form and functionality, between desired capacity and usable space?
Canyon Cabinetry & Design offers a wide selection of appliances available from our trade partners to fit any aesthetic or specification. So the question remains, what kind of things should we keep in mind when choosing appliances for our kitchen remodel?
Refrigerator
Much of choosing a refrigerator is not only dependent on the overall space available in your kitchen, but is also based on how many people you have living in your home and how much entertaining you plan on doing.
For example, a family of four can make do with about 20-25 cubic feet of refrigerator space, while a larger family may need 27+ cubic feet of space. Of course there are other space considerations as well. Do you want a side-by-side, which are easier to organize but can be too narrow for large items, or a top-and-bottom with the freezer below the refrigerator? Can the refrigerator you are considering not only fit in the space available, but does it have proper door clearance. A good rule of thumb is to plan for at least two inches on each side of the refrigerator to allow the doors to swing open.
There are other personal and convenience choices to keep in mind as well. Do you want an ice and beverage dispenser built into the fridge? If you do a lot of entertaining, would you like the option of installing a separate refrigerator under the counter for beverages? What about a wine refrigerator…or even a separate icemaker?
Aesthetics play an important part as well. Are you thinking of installing a wood-paneled refrigerator in your kitchen to match the cabinetry, or are you doing all your appliances in stainless steel?

Range & Oven
When it comes to cooktops, the number of burners is dependent on both the space available and your overall need. How much cooking do you do? How big are your holiday get-togethers?
One other important item to keep in mind is whether you prefer a gas or electric range. Gas is inefficient, you lose roughly 40% of your heat from the gas burner to the pan. Electric may be more energy efficient, but it heats more slowly than gas. A third option is induction, which saves time and is more energy efficient.
If you decide on a gas range, be sure to consider how much heat the range produces (measured in BTUs), as well as variable control options that allow you to determine the flame output.
Choosing an oven will depend on what kind of cooking you want to do. If you're big into baking anything that rises or splatters, you may want to stick to a traditional oven. On the other hand, if you just want to get dinner on the table as quickly as possible, a convection oven that uses airflow to cook items fast and evenly might be the better choice. If you want the best of both worlds, consider a double oven, with one oven installed above the other.
Dishwasher
Who can live without a dishwasher these days with our busy schedules? Again, you must decide which one is right for you by thinking of your personal criteria. Think of the capacity and the arrangement of the racks inside. Do you use more glasses or plates? Is there room for big pans and bowls or do you plan to wash those by hand? Do you have a large family or do you live alone? Do you want sound dampening or do you care?

Size matters.  With standard kitchen cabinets, you are looking at 24 inches in depth and a minimum of 34 inches tall, but with a custom kitchen, this can differ. Standard tub dishwashers allow for easier maintenance and installation, but tall dishwashers have approximately 20% more capacity. A drawer dishwasher has separate compartments that open up in the same manner as a drawer, allowing you to wash smaller loads. These can also be blended in nicely into your cabinetry so nobody will even know there is even a dishwasher.

Microwave Oven
One of the newest mainstays of the modern kitchen, microwaves have been common household items since the late 90s with over 90% of American households owning one. Many different sizes exist so it again depends on your household needs.
Microwaves can be part of your countertop appliances, but for those of you who do not like the clutter on your countertops, you can mount it anywhere. Some have built in vents for over stove usage.
As of 2001, there are patented microwaves that can read barcodes on food products and automatically cook at the optimum level for those products. Other microwave ovens now have built in toasters that save countertop space while providing the convenience of two appliances built into one.
Although the appliance options are endless, it is always fun to search what style and features suits your needs. Here at Canyon Cabinetry, our design professionals will work closely with you to style and make your kitchen function the way you want and need. Come into our showroom to see what we can offer you.
Posted in: Custom Cabinets Tucson Arizona, Home Remodeling Tucson Arizona, Kitchen Remodeling Tucson Arizona
Tags: cabinet design Tucson AZ, cabinetry Tucson AZ, countertops Tucson AZ, kitchen cabinets Tucson AZ, kitchen design Tucson, Kitchen Remodel Tucson