Creative Cabinet Ideas & Designs (Pt. 1)
Posted on January 28, 2013
by canyoncabinetry
With the New Year just behind us and so much to look forward to, here at Canyon we're always thinking of new ways to improve our home designs.
One of the best ways to do that is to add a neat and noticeable feature to your kitchen, bathroom, or other home environment. Get creative! There's so many little things you can do to make a dull space into something way more you.
To help get the ideas flowing we've selected some of our personal favorites as examples for you, so you too can think of something unique and fun to do with your home remodel!
3 Inventive Cabinet Ideas & Designs
Inner Pantry Lighting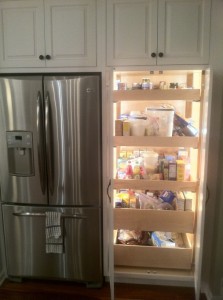 One idea we love is this well-lit pantry space with pull out shelving! Lighting is something we often take from granted, especially when it comes to our kitchen.
There's no better way to get a clean view inside your cabinets then to have them lit from the inside. This setup is convenient because it allows you to retract the doors after opening them and it almost mimics the overall design of the fridge just adjacent to it.
Notice the homeowner has left plenty of space for deep shelving as well. This idea bodes well with a larger kitchen, but it can also be used to save major space in a smaller area where only so many large cabinets can be installed without cluttering the space.
No Upper Cabinets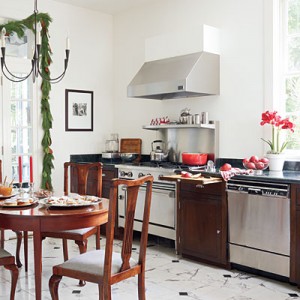 Another idea that often gets overlooked is actually cutting back on the overall amount of cabinetry in your kitchen. Sometimes too much is just, well – too much. Especially when it comes to kitchen remodeling.
This fun kitchen idea works based on the fact that there are no upper cabinets installed. Not only does it open up the kitchen area giving it a much more breathable feeling, but it also allows for the rest of the design to come together.
Without all the upper cabinet clutter, the light fills the room more easily and allows for all the various "red" features to pop out and grab your attention better. This idea is great for the minimalist type looking to do something out of the ordinary with their kitchen design!
Tiered Vanity Shelving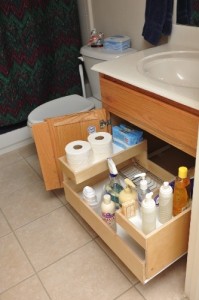 This one is for those of you looking to better organize your bathroom. If you aren't looking to do a full bathroom remodel, you should at least consider a few fun & unique ways to tidy the space.
One thing you can do is rework the shelving inside your bathroom vanity. This homeowner had the vision of tiered pull out shelving. Much like you would see in a kitchen cabinet built for pots and pans, this pull out has an almost deep-tub type of feel.
Not only can you fit your larger bathroom products, but there are also top tiers which can harbor your smaller or more frequently used, non-cleaning products. We've seen this done a fair amount, but not as often with the pull out feature added. That's really what makes this idea so convenient though!
Being organized and function-ready is a must with any remodeling decision!
Other Ideas & Designs
We're always searching for new ideas & designs like these to not only use, but also to manipulate and work into other ideas. We'll be posting more of our favorites over the next few blogs, so be sure to keep your eye out for that!
Until then, you're always welcome to contact us by phone or email and we'd be happy to help generate new ideas for your home remodeling project in particular!
Posted in: Bath Remodeling Tucson Arizona, Home Remodeling Tucson Arizona, Kitchen Remodeling Tucson Arizona
Tags: Bath remodeler Tucson, bathroom cabinets Tucson, bathroom designer Tucson, Bathroom remodel Tucson Az, bathroom vanities Tucson, home remodel design Tucson, Home Remodeler Tucson AZ, Home Remodeling Tucson, kitchen cabinets Tucson, kitchen design Tucson AZ, Kitchen Remodel Tucson, kitchen remodeler tucson az