Creative Cabinet Ideas & Designs (Pt. 2)
Posted on February 11, 2013
by canyoncabinetry
Greetings! Canyon Cabinetry is back again with more creative cabinet designs for you!
Today we wanted to show off a few more of the best cabinet ideas we've seen lately, so we picked 3 more favorites of ours to discuss! Let us know what you think!
Three More Unique Cabinet Design Ideas
Double Wide Pull Out Shelves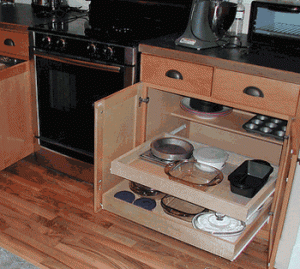 The first idea we wanted to discuss seems like it's been done a million times, but there's just one twist that makes this so useful – it's extra wide!
Tight cabinet spaces aren't always the most fun to work with, so this homeowner opted to create a vanity-esque storage compartment out of the space normally allocated to two separate cabinets.
The doors swing wide and with two pull out shelves inside there plenty of room for pots, pans, and other kitchenware and with ease of access too!
Cabinets Under the Staircase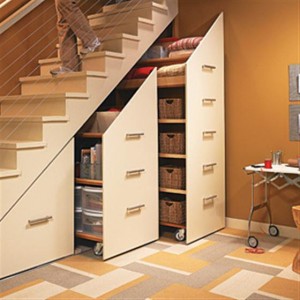 Many homeowners with a staircase have some sort of storage implemented underneath it. However, this homeowner has taken it to the next level by adding form-fitting pull out cabinetry beneath their staircase!
This is such an amazing idea because it really utilizes all of the space beneath the staircase. As you can see, the idea incorporates special shelving and baskets for storage too.
If you have a staircase in your home, what have you done to maximize the space below it?
Kitchen Island Booth Table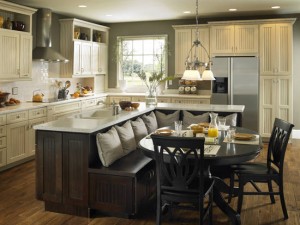 We try to save the best for last each time, and this time we want to share with you one of our very favorite kitchen design ideas over the years. That is, the kitchen-island/booth-table.
In every kitchen design there's always one major thing to be considered – space. This idea takes that rule and embraces it fully!
With enough cabinets for storage and a decent sized, L-shape kitchen island, this homeowner was  left wondering where to add their dining set.
The answer was to form the back of the island into booth seating and tuck a table in neatly to create a unique little dining nook right at the focal point of the kitchen. Perfect!
Have you ever thought of or seen any other unique ways to mash up cabinetry with functionality? Leave a comment below, or you can even post on our Facebook! We'd love to hear from you!
Until next time,
Canyon Cabinetry & Design, Tucson AZ
Posted in: Custom Cabinets Tucson Arizona, Home Remodeling Tucson Arizona
Tags: bath remodeling Tucson AZ, bathroom cabinets Tucson, cabinet designs, cabinet ideas, cabinetry design, cabinets Tucson AZ, custom cabinets Tucson, home remodelers Tucson, kitchen cabinets Tucson, kitchen remodelers Tucson, remodeling companies Tucson Az, remodeling contractors Tucson