Creative Cabinet Ideas & Designs (Pt.3)
Posted on February 25, 2013
by canyoncabinetry
We're back! And we've brought along our final installment (for now at least) of creative cabinet designs to share with you!
This time we wanted to focus on a few of our favorite cabinet ideas that either combined other common kitchen design ideas, or put a twist on them.
The Island-Bar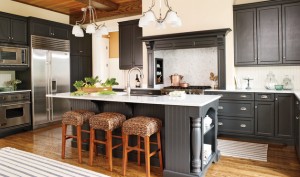 First up we present to you a fairly common idea, but it's by far one of the most functional and space-conscious kitchen designs and that's what we like most about it.
Turning your kitchen island into a pull up bar counter is not only easy, but it comes with great perks as well. It's as simple as extending your island's countertop, but without expanding the cabinetry beneath it as well.
This allows for extra counterspace as well as a neat way to invite your guests to chat in the kitchen as you prepare a meal – all without cluttering the space and disrupting the kitchen environment from its main purpose (to cook in!).
No Island? No Sweat.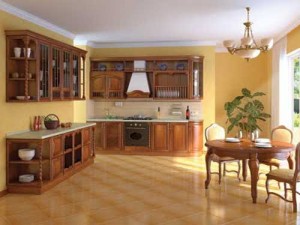 Many people actually don't have room to freely incorporate an island, or simply prefer not to have one, so what's a great kitchen design for those kind of people? How about no island at all, and while you're at it – cut back on overall cabinetry and counterspace too!
This type of design is truly minimalist (notice even the lack of a sink in the immediate area) and as such, it allows for a very roomy and homey atmosphere for your kitchen.
Cabinet space isn't overdone, and neither is counterspace, so a nice warming wall tone like yellow and lots of natural lighting really does the room justice in its simplicity.
Tiered Corner Drawers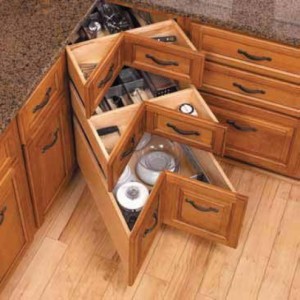 So maybe you're not a huge fan of the Lazy Susan. Well this is the solution for you!
These corner cabinet pullout drawers are surprisingly spacious as they offer all the storage space that a Lazy Susan might provide, but with even less effort on your part for retrieving whatever it is you need.
Simply pull your cabinet handle and voila! You have multiple choices from small top shelf drawers to a larger, tub-like pullout on the bottom that fits common kitchen accessories like food processors and mixing bowls.
Don't let your corner space go to waste! These are also incredibly unique in that they offer small triangular storage spots in the front of each drawer to compliment the structure of the cabinets, but also come with your common rectangular, inner-space design.
That's all for now! We hope you liked these ideas as much as we did! Be sure to check back with us soon for more news and updates on everything cabinets and design!
Posted in: Custom Cabinets Tucson Arizona, Kitchen Remodeling Tucson Arizona
Tags: bathroom remodeling Tucson, cabinet design Tucson AZ, cabinet remodeling Tucson, cabinet store Tucson, custom cabinets Tucson, home remodeler Tucson, Home Remodeling Tucson, kitchen cabinets Tucson, kitchen design Tucson AZ, kitchen remodelers Tucson, Tucson cabinets