Tips For Your New Backsplash
Posted on March 12, 2013
by canyoncabinetry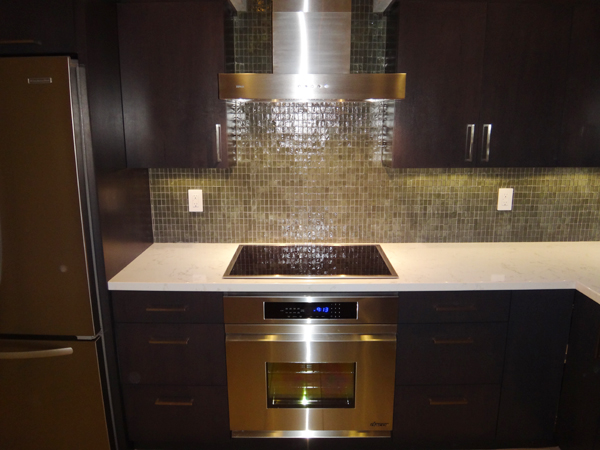 Often overlooked in a kitchen remodel is one of the most noticeable features when done wrong: the backsplash.
But that doesn't mean you have to keep your backsplash bland and basic to avoid making this mistake!
Here are a few ways we recommend to spice up your backsplash, keep it functional, and still have it blend well:
-Utilize Prominent Colors
Take a look around your kitchen. Is it wood-toned and homey? Maybe it's got a lot of shine and it's more contemporary? Whatever the case – try to incorporate the same sort of feel into your backsplash.
If you have say, lots of blue or red accents, then make some of the backsplash or various tiles the same color blend.
Play around with different ideas of how you can mix in some of the prominent colors from your kitchen space and you'll be pleased with the way your backsplash compliments the kitchen as a whole.
-Don't Always Stick to Tile
Just because a lot of your favorite showroom kitchens have tile backsplashes doesn't necessarily mean it's the right thing for your kitchen.
Say you have a very rustic feel to you kitchen; you might try a wooden type backsplash instead.
There are a ton of choices out there besides tile, but if you do land on that then trends that are usually easy to factor into your remodel are the mosaic tiling effect as well as playing with metallics and different hues.
-Factor in Maintenance
The best backsplash in the world is definitely easy to clean and maintain. You may have something so aesthetically pleasing it's incredible, but if you have to spend overtime cleaning it then all you've got is something average.
Don't get too complicated with your backsplash design. It's always great to ask an expert for advice as they've seen it all and know what goes well together.
One thing we can say for sure though is that homeowners dread having unrealistic upkeep, so don't put yourself in that predicament!
-Keep It in Budget
Our last tip is pretty simple, but always necessary to touch on. In any part of a kitchen remodeling project you should always keep your budget in mind.
Don't go overboard on the backsplash just because you came up with a fabulous idea. Something that you love, but that was affordable too will ultimately make you most pleased with your kitchen.
Whatever you do with your kitchen remodel, remember to have fun and make it into something that says you! Backsplashes are a great way to incorporate your own style so don't overlook it!
Posted in: Custom Cabinets Tucson Arizona, Home Remodeling Tucson Arizona, Kitchen Remodeling Tucson Arizona
Tags: cabinets Tucson AZ, custom cabinets Tucson, home remodeling Tucson AZ, kitchen cabinet showroom Tucson, kitchen cabinets Tucson AZ, kitchen design Tucson AZ, kitchen remodel Tucson AZ, kitchen showroom Tucson, Tucson cabinet showroom